I had the
privilege
of working with
The Memory Journalists
again on Friday. We shot an e-session for Ann-Marie & Mark and may I just say, what a cool couple! Ann-Marie has this awesome bright pink hair, retro style and some really cool ink. And it was one of those perfect almost-spring days where the sun is shining and trying to stay awake as long as possible. All in all really great shoot.
Ann-Marie has this REALLY cute polka-dot dress she changed into. Very retro. I'm going to have to see if I can hunt down one for myself. And Mark was just one cool cat. And SO in love with Ann-Marie. The boy is GONE. (P.S. I shot the series below! Aren't you proud of me? It gives me a little thrill!)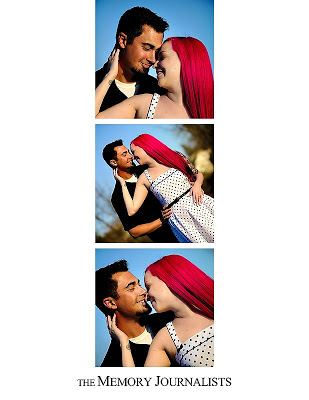 I LOVE this picture. Look at her face! She is pretty gone too! They are just such a cute couple.
Okay, so this last one has a back story. Jen had gone on and on about how she had found this one lone tree and she really wanted to take pictures using it and so on and so forth. When we got there is was a really small tree. I think Anne and I had in mind a HUGE oak and this was a baby tree. So we laughed and made fun, but who's laughing now? Those pictures turned out awesome! I take it all back Jen!
Thanks for letting us shoot you Ann-Marie & Mark! Your wedding is going to so cool! Click the above image to go to the Memory Journalists
post
and
slideshow
!