Saturday, November 7, 2009
Okay, so if you are friends with me on FB or follow me on
Twitter
than you know I HEART GLEE. No seriously. It is my newest, greatest love and I can't get enough. And if you aren't watching it I feel very, very sad for you. I might even shed a tear or two. Because you are missing the awesomeness. The kids are awesome, the singing is SO cool, the teachers are dorky in the coolest way and did I mention the COOL songs? Look here, don't take my word for it. Check out these clips and then tell me you aren't interested.
Seriously, how can you not LOVE the singing. I wish I could have found the full clips of some of the other songs but you can catch up on on all the episodes on
Fox
. And you MUST watch it next Wednesday. It's not to be missed. And then you can come back here and thank me profusely.
Written by

Bree Wilder
at 8:42 AM
2 comments


Thursday, May 14, 2009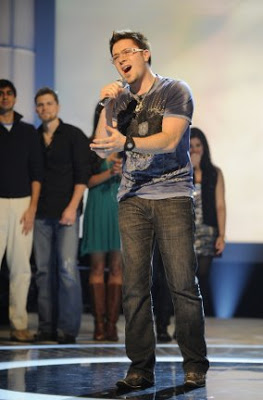 I am so caught up in American Idol this year. I watch it every year but THIS year I'm REALLY caught up. The top 10 were amazing this year. This has been, by far, the best season. And last night crazy America sent my boy Danny home. Tear.
I LOVE Danny. He was so awesome. That gravelly voice. They way he connected with the audience when he sang. His cool glasses. I voted for him every single week. Yes. I vote. I'm 12.
And not to do a disservice to Kris or Adam. Kris has actually really surprised me. He seems to have come out of no where to really shine. And he is VERY good. His performance of "Heartless" by Kayne West was amazing.
Adam is good. Really. Very good. He can take a song and totally make it different. Which takes some talent. But he reminds me of
Mariah
Carey. Just because you CAN hit those notes doesn't mean you HAVE to hit them every. Single. Time. And please stick that tongue back in your mouth. Thank you.
I really hope this will be one of those Chris
Daughtry
situations where even though Danny didn't win he will still be successful. And I think I'll have to switch my allegiance to Kris now.
And next week I'm staying of the computer the whole night so I don't accidentally stumble on who gets voted off!
Written by

Bree Wilder
at 8:19 AM
4 comments


Tuesday, March 25, 2008
Can we please discuss my JOY at TV coming back? The Office on April 10th, Desperate Housewives on April 13th, Grey's Anatomy on April 24th. . .my life once again will be fufilled. Sad isn't it?
Written by

Bree Wilder
at 10:20 PM
1 comments