I love headbands. LURVE them. I, however, have a very large head and find that they tend to either give me a headache or slowly slide off the back of my head. Not cute. Plus, I've always been into accessories. I mean, it totally makes the outfit! And now that I'm pregnant and I find myself wearing the same five things over and over the only way I can change it up is to add cute accessories. Enter
FeatherBrain
.
I have been looking for some cute, flexible headbands to wear. Specifically with the thin headband. I first saw these on
The Pioneer Woman's
website and just fell in love with them. They are so beautiful! I went to Etsy and just drooled over all the stuff in her shop. After many hours of selection I narrowed it down to a pretty peacock feather. I already know exactly where I want to wear this too. I think that these would make awesome gifts too! Plus, they are on sale so perfect for this time of the year! This headband fits really well. It's snug without giving me a headache and has enough give to fit over my melon head. I'm now drooling over all her other headbands. I can find at least 6 that I would like to own!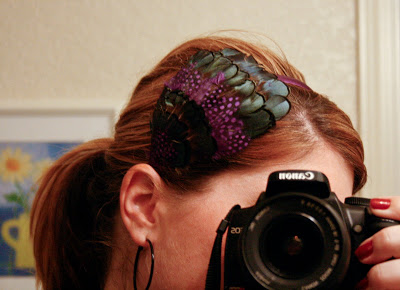 Sorry about the weird photo! I wanted you to see how it fits!