Nine months. 9. Whole. Months. I made it. At the end of this week I will be considered "full-term". I FEEL full-term right now! I have definitely reached that stage of discomfort where I'm pretty much over being pregnant. The only thing that is keeping me from REALLY wishing hard for Jackson to come is the fact that we are still putting the final touches on the nursery (I know! I'm a little behind!) and the fact that I have a baby shower in 2 weeks. I am officially okay with going into labor January 25th. Just an FYI.
Everything is looking awesome. Baby is still head down. Unfortunately there is NOTHING else going on down there. I've had this cold/cough for going on three weeks now and my doctor said that I can take some cough medicine for it so that's a relief. And I have some how hurt my top right rib. It hurts like a mother. So everytime I cough I wince. Everytime I turn a certain way I grimace. Makes for some awesome faces. But if I can stop this cough and give my ribs a break hopefully it will start feeling better.
I don't feel like I'm getting much bigger at this point. Maybe I am and I can't tell. They think the little man is weighing between 6 and 7 pounds right now. Which is what my nieces weighed WHEN THEY WERE BORN. I'm predicting a 9 pounder here. Lord help me.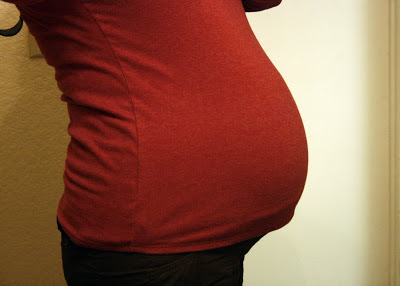 I've been doing a ton of sleeping. Making myself sleep as much as possible every day. One, it helps the day's go faster, two, I quickly run out of energy these days and three, the time is coming quickly where I won't be sleeping, I want to enjoy sleep while I can. All in all I'm feeling okay. Uncomfortable and huge but that comes with the territory. Here's hoping I only have 2 and half more weeks to go!