Okay because I'm an AWESOME blogger I posted exactly ONE favorite thing last week. So let's pretend that I am starting that this week, mmmkay? K.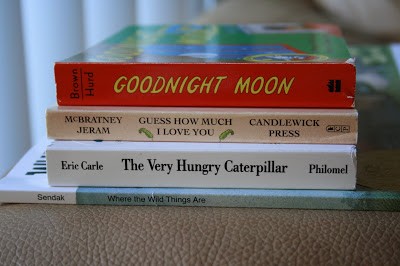 These books were sent to me shortly after I got pregnant by my pal
Michelle
. Being the good pal that she is she knows how much I LOVE books.
Obssessed
with them really. And I fully intend to pass this love along to Jack. So Michelle sent me Jack's first books. I was so excited when I got them. I've already started reading them to him. Growing up loving books gave me such a great imagination in my opinion. To this day when I read a book I still can become a part of the story. And the books she sent are the GOOD one's! Thanks so much Michelle! These will be treasured!