I read a lot of blogs. A LOT. And I would say a quarter of them are food/cooking blogs. That's a lot of recipes. One of my favorite cooking blogs has to be
We Are Not Martha
. These girls whip up some pretty tasty stuff and often it's not all that bad for you. And most of the recipes are very user friendly. I tested out one of their recipes a few days ago and it was really good. Hubs enjoyed it too. The original recipe is from the
Mayo Clinic
of all places and I followed that one more exactly than the one on
We Are Not Martha
. Without further ado: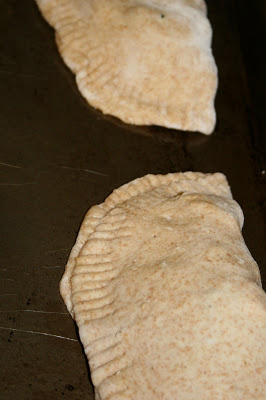 Chicken & Spinach Calzone.
SERVES 6

Ingredients
2 teaspoons olive oil
1 pound boneless, skinless chicken breasts1 package
(10 ounces) frozen chopped spinach, thawed and drained
8 ounces part-skim ricotta cheese
1 teaspoon minced garlic
1 tablespoon chopped parsley
4 teaspoons Parmesan cheese
2 egg whites, divided
1 frozen whole-wheat bread dough loaf (16 ounces), thawed, not risen

Directions
Preheat the oven to 350 F. Lightly coat a baking sheet with cooking spray.
In a large, nonstick frying pan, heat the olive oil over medium-high heat. Add the chicken and saute, turning occasionally until golden brown, about 10 to 12 minutes. Set aside to cool. When cool to the touch, cut the chicken breasts into cubes. Set aside.
In a small bowl, combine the spinach, ricotta cheese, garlic, parsley, Parmesan cheese and 1 of the egg whites. Mix until well blended. Set aside.
In another bowl, using a wire whisk or fork beat the remaining egg white lightly.
Cut the bread dough into 6 equal-sized pieces. On a floured surface, press each piece into a circle. Using a rolling pin, roll each dough piece into ovals 8 inches long and 6 inches wide. Brush the edges of the dough ovals with the lightly beaten egg white.
Place 1/6 of the chicken cubes in the center of each oval. Add 1/6 of the spinach mixture to each. Fold the dough over the filling, pressing the edges together. Crimp with a fork and place on the prepared baking sheet. Bake until browned and crispy, about 15 to 20 minutes. Serve immediately.