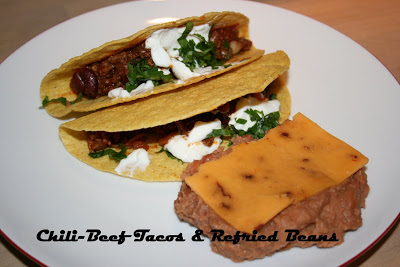 I'm so happy to be cooking again (No comments from the peanut gallery! I'm looking at you
Michelle
!)! After a few months of not being able to do it I'm enjoying expanding my culinary knowledge. Plus I'm cooking a lot healthier these days so I've got lots to share. And for you seasoned cooks don't get annoyed with my step-by-step instructions. It makes it so much easier when you cook a recipe for the first time in my opinion. Today it's Chili-Beef Tacos. Yum. I don't know about you but Mexican food is my FAVORITE. I'm not saying these are real authentic or anything but hey, there's a taco shell in there! Enjoy!
Chili-Beef Tacos
Ingredients
2 TBSP chili powder or Mexican seasoning
1/2 tsp ground cumin
1 tsp olive oil
1 small onion, chopped
2 medium garlic cloves, minced
8 oz uncooked lean ground beef
8 oz canned tomato sauce
8 oz canned kidney beans, rinsed and drained
8 taco shells
4 tbsp reduced-fat sour cream
4 tsp cilantro, fresh, chopped
Instructions
Toast chili powder and cumin in a medium skillet over medium heat until fragrant, about 30 seconds. Add oil to skillet and heat; add onion and cook until tender, about 3 minutes. Add garlic and cook until fragrant, about 3 minutes. Add beef and cook until cooked through, about 5 minutes. Add tomato sauce and beans; cook 5 minutes more or until heated through (To turn up the heat you can toss in some chopped chipotle peppers with the tomato sauce). While your meat is cooking the last 5 minutes heat up your taco shells. Fill each taco with the beef mixture, sour cream and sprinkle with cilantro. Dinner is served!
This recipe is WW, so for those of you who care. . .each taco shell gets filled with 1/4 cup of beef, 1/2 TBSP of sour cream and 1/2 tsp of cilantro. Each serving is two tacos and is worth 6 points.