Thursday, November 20, 2008
Written by

Bree Wilder
at 2:52 PM
2 comments


Written by

Bree Wilder
at 1:35 PM
2 comments


Wednesday, November 19, 2008
Tomorrow is the day. My final "test" to past to see if I'm good enough to work here. I have to roleplay a customer's account with my teacher. VIDEOTAPED. Somebody please kill me now. And pray peeps, pray.
Written by

Bree Wilder
at 11:27 PM
1 comments


Sunday, November 9, 2008
This week sucked. Plain and simple. I was grumpy all week for reasons unknown. I was just in such a funk. I felt grumpy and anti-social all weekend. My classmates were on my nerves and the training this week was a complete waste. Everything seems to be taking us DAYS longer than it should! THREE DAYS to cover 45 pages. Kill me. Oh, and FYI, my bad attitude will carry into this post. Don't expect too much.
There was food. Not a lot but here's what I got:
Best food of the week goes to
Theo's CheeseSteak Shop
. Delish.
Focaccia Cafe & Bakery
. Yummy salad. I'll definetely go there again.
Amici's East Coast Pizzeria
. More pizza! Love it!
And the most AWFUL food of the week goes to
CHEVY'S
.
I didn't do too much picture taking this week. In fact, only picture I took this week was of my new haircut at the end of this week. Which you've already seen. I promise to return in better spirits next week. Promise.
Written by

Bree Wilder
at 2:40 PM
2 comments


Monday, November 3, 2008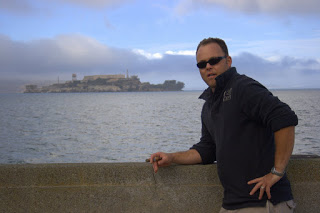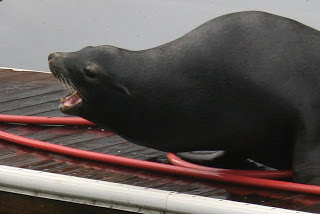 Hubby came to SF to visit me this weekend. We had SUCH a great time. Saturday we just hung out but Sunday we explored SF! We spent all day out along Fisherman's Wharf and the coastline. We walked along the beach, past Ghiradelli Square and out on the pier past Fort Mason.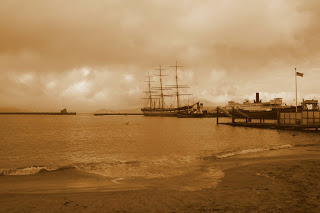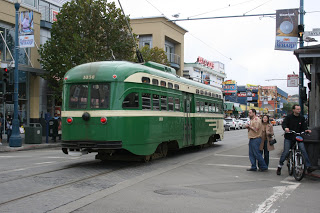 While I've visited SF a lot of the last couple of years, Hubby hasn't been here in 20 years! Can you believe that? Crazy huh? So he had a great time soaking it all in. We saw all the usual street vendors (which I didn't take any pictures of b/c I'm on a budget and it doesn't including dollars for pictures). My favorite is ALWAYS the tree guy. If you've never seen it you need to check it out. HILARIOUS!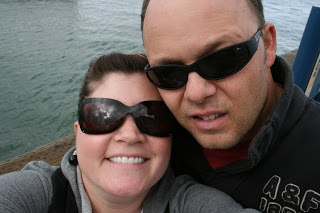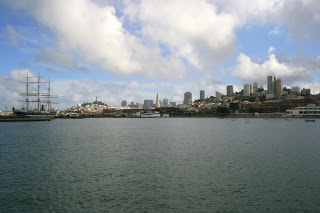 It was a great weekend and so fun to hang out just by ourselves and pretend that we really had our own place in SF instead of thinking about the fact we live in my parents garage.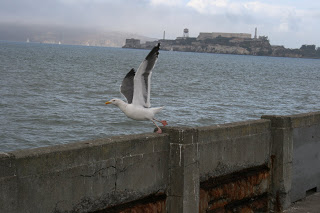 Written by

Bree Wilder
at 2:27 PM
1 comments


Saturday, November 1, 2008
(So I'm a little behind in posts but I'm going to keep going! This is for the week of October 26th to November 1st.)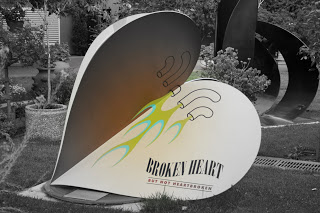 Week three DOWN! This was actually a REALLY fun week. Probably because it required actually no travelling on my part other than to SF!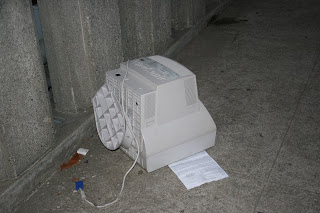 Let's see. . .eat's were yummy this week. First off, I haven't really talked about my Starbuck's. There are actually two I frequent. Every. Single. Day. I have completely become a coffee addict. I blame Erin. She has to have her coffee every morning and by golly, if she is why shouldn't I? They are both good Starbucks except for one whose cooler has been broken for WEEKS. Starbucks has PLENTY of monies to fix a cooler, come on. And you have to time it just right. If you get there a minute late you will be in line forever and that can make you late. We've got it down to a science. On to the food. . .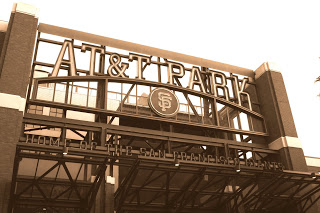 I finally got myself some sushi! From
Toyko Express
to be exact. Very quick, great for lunch, not the best sushi I've ever had but I've also had much worse! Checked out a place called
Tres Agaves
. YUMMY. The quesadilla was SO good but the margarita pitcher wasn't worth the $37! Our class took a little field trip to
Ristorante Umbria
. SWOON. Best Italian food I have had since I have been here. NO JOKE. And that night I tried out this cafe/bookstore across the street from my apartment called
Crossroads Cafe
. It was really good and just plain yummy. Try the Lemon Poppyseed cake. You won't regret it! Grabbed lunch one day at the
Working Girl Cafe
. I had heard a lot about this place and was looking forward to trying it out. Yummy sandwiches but even better coffee! Visited
Delancey Street Grill
. It was pretty good. Wasn't the best food I have ever had but I did love their Heirloom Tomato and Mozz salad. Then it was off to
Yank Sing
, dim sum to go. Eh. I wasn't terribly impressed. Visited
Palamino
again because seriously, $5 pizza and $4 Mojito's? SCORE. Had some okay lasagna from
Caffe Focaccia
one day at lunch. And last but not least ordered in from
May Lee's
restaurant. SO MUCH FOOD. Walnut prawns were delish, but boy was I stuffed.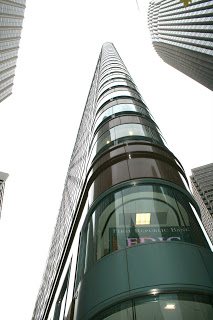 Monday and Tuesday of this week I did a little exploring. I grabbed my camera and just walked. I took pictures of anything and everything. This city is so ALIVE. Everywhere I look there is noise and people are moving and the wind is blowing and something is happening. I really took in the city this week. It was awesome.
I stayed in the city this weekend. Friday after we got out of class I went back to my apartment, changed my clothes, threw on my tennis shoes and grabbed my camera. Off I went. I walked for THREE AND HALF HOURS all the way to Union Square and back. IT WAS AWESOME. Best time I have had so far. In fact on my way back to my apartment I ran into Critical Mass. Critical Mass happens the last Friday of every month and it basically when the bicycles take over the streets. Apparently October is the best time to catch it because of Halloween everyone dresses up. It was really cool and I got some pretty amazing photos that day.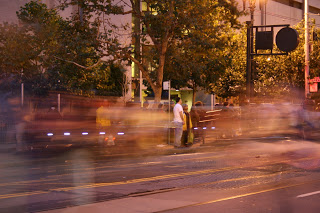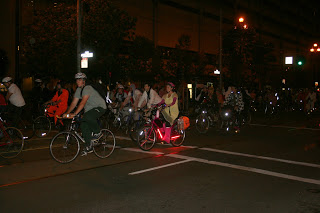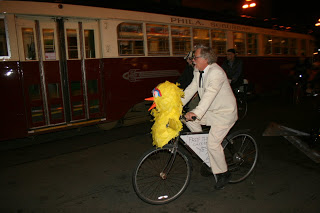 Hubby drove up on Saturday after he got off of work and hung out. We were both pretty tired so Saturday night we stayed in but Sunday we hit the ground running. We took Muni over to Home and had brunch (dinner was WAY better) and then hopped back on Muni and headed to Pier 39. We walked for I don't even know how many hours. We walked past Ghiradelli Square and out by Fort Mason and down the pier there. Then we walked back. Jumped back on the Muni and headed home. Here's a cool fact. It took us a total of $6 to get around that day! That's it!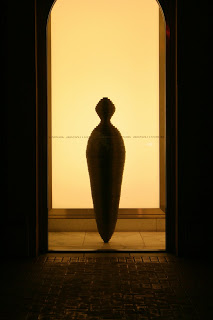 All in all a really good week. Lot's of exploring, lots of picture taking and of course, lots of food! After this week only 3 and half more to go! Think I'll miss this place.
Written by

Bree Wilder
at 9:51 AM
1 comments


Sunday, October 26, 2008
One more more week down only about 5 more to go! Actually this was a really good week. I took a little bit easier this week and didn't try to do every little thing every single day and it made for a much more relaxing week. I even actually hung out in my apartment! GASP!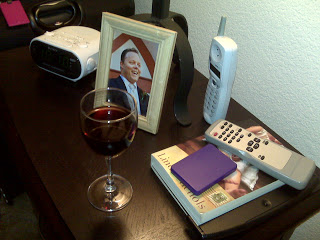 Tried all new restaurants again though. Keeping up with that! There was
Lee's Deli
(for those who can't choose just one thing to eat!),
Bayside Market
(look at all that hidden there under your skirt!),
Lightening Foods
(Move 'em in, move 'em out!),
Palomino
($5 pizza and $4 mojito's?! Um, YEA!),
Henry's Hunan
(I heart Henry),
Osha Thai
(all in all, my first Thai experience, AWESOME!),
Delica rf-1
(I also heart Japanese food!),
El Sotano
(next.), and
The Toaster Oven
(a bit if NY right here in SF). Not huge winners like
Home
but Osha Thai was REALLY good. I would totally eat there again. Do you love how this adventure is all about the food?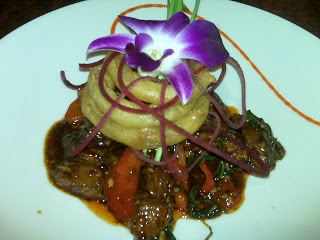 In other news, I had a certification test this week. You have to pass these beasts with a 80% or higher or hello unemployment. Yea, they take their training relatively seriously. BLAH. Anywho, I walked away with a 94%. I rule.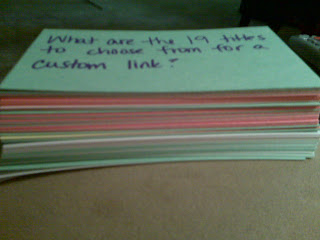 This weekend with the Hubby was much better. Basically because I was bound and determined to NOT argue so I let him have his way on everything. Men. But we did have a good time. Hung out, saw a movie (Pride & Glory. Good stuff.) and slept. Man, did I sleep. I started getting sick last Sunday and by Monday morning it was a full blown cold. You know the kind that just drags you down and makes you move about .5 miles per hour. But that wasn't an option for me. So I just kept pushing and pushing. By the time I got home on Friday I was dead. Literally fell asleep before 9:30 on Friday night. And slept in the next morning. I think my body finally just gave out. But I'm happy to report that after a weekend of sleeping I'm feeling mucho better. Thanks for asking.
Got to hang out with my old coworker Brian this week. Had dinner with him and his wife. Whom I like very much. Julie and I haven't hung out much before but we had a great time making sure Brian was tormented as much as possible. I was a little worried about it because Brian and I were really good friends at work and I didn't want it to be some weird dynamic but it was great and I think I got a new pal out of it.
So there you have. Your weekly recap. I really hate not being able to blog during the week. I never realized what a stress relief it was for me. But only 5 more weeks to go! Wish me luck!
Written by

Bree Wilder
at 12:06 PM
1 comments


Sunday, October 19, 2008
So since I'm going to be having this little adventure in SF for the next two months I thought we would take this journey together. My little play on words is courtesy of my pal,
TU
. She's a funny gal. I won't be able to post as often as I would like while I'm there but I promise to always give a re-cap at the end of the week. Let's cover week one shall we?
The apartment they have set me up in FABULOUS. No really. Right there on the water. I can literally walk to one end of my apartment complex and be on the water's edge. Pretty cool stuff. And they even send someone in once a week to do my cleaning. SCORE.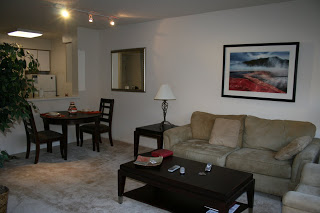 Training is monotonous. I think we could cover all the stuff it took us a week to cover in about 3 days, maybe less. Thankfully our class is small so it doesn't make it too chaotic. I'm walking to work every morning in the brisk SF air. Love the smell of fish guts and trash early in the morning.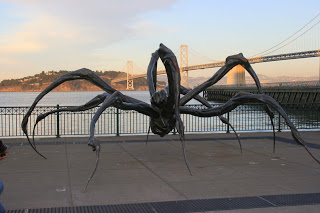 I have a mixed bag and mixed reviews about my fellow classmates. There is only one of girl and we get along fabulously. The other guy that came from our same office goes from driving me to the point of murder to being a buddy. I may kill him by the end of the two months. The other two guys are nice, for the most part. One is just a little bit more pouting and full of himself for my taste, whatever. What can I say? You were never promised to like all our co-workers when you join a company.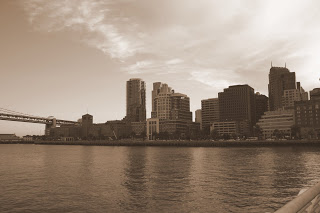 Now the food. Oh the food. I promised myself to try a new restaurant every single night. I mean come on, I'm in one of the best places in the world for FOOD. Sad, isn't it? That the most exciting thing to me about being in the big city is the food selection. So far I have had a Gordon Biersch (eh.), Figaro (yummy Italian), Paragon (good, but overrated) and my favorite of the bunch, Home (I want to move in there.). If you want to know what I thought of these places check out my Yelp posts.
The hardest part so far has obviously being away from Hubby. I think he missed me more than he thought he would too. We spent all weekend just being together and getting on each other's nerves. Aw, young love. My sleep pattern is all jacked up due to learning to sleep alone again. Which stinks. Because I love me my sleep. I did take one day to just go walk about the city and take some pictures. Which was awesome. There is so much to capture.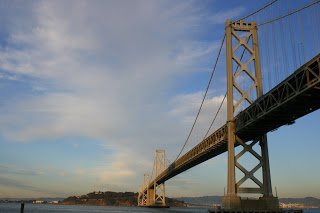 All in all I give the first week a C+. Not the best week I've ever had, but certainly not the worse. And just between you and me I am kind of looking forward to going back to my little apartment and having my OWN PLACE. If only I could fit Hubby in my suitcase.
Written by

Bree Wilder
at 5:59 PM
5 comments


Monday, October 13, 2008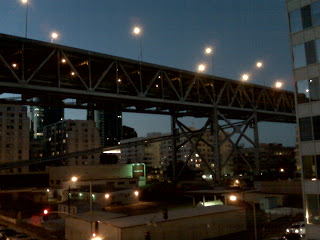 I am living almost DIRECTLY UNDER the Bay Bridge.
So here I am in SF. I have a fabulous apartment about a block from the water and four blocks from Downtown. The weather is gorgeous and I can walk to some of the coolest restaurants in the area. I'm living the life my single self would have died for. Too bad I desperately miss my hubby. Throws a wrench in the whole thing.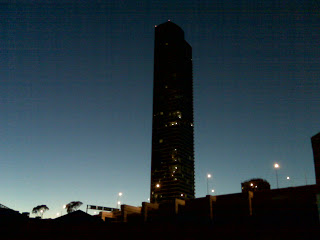 Written by

Bree Wilder
at 11:14 PM
1 comments