Okay, so that is the WORST blog title ever but whatev. Go with it.
I chopped all my hair off. I'm not just talking a couple of inches here people. I'm talking 8+ inches. EIGHT. I've had my hair this long for FIVE YEARS. That's a long time my internet peeps. Before that it was every length under the sun but I really stuck with this last hairstyle. The color changed but I loved having it long. I could do anything with it. But over the last couple of months it has become a dead beast hanging from my head. I wasn't getting it trimmed like I should b/c we were so broke. I was coloring it myself, which is never all that good for your hair. I was going to have to cut off at least 5 inches to get it healthy. But I thought, "Eh, why not go for the gold?" Plus, I was bored. I mean, I'm reinventing myself right? New home, new job, sorta new husband, soon a new car, new-old friends. Why not carry it all the way through? So I did.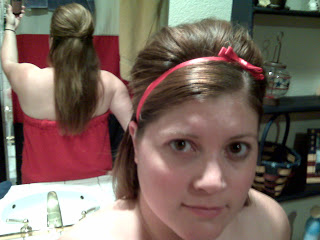 Here's what my hair looked like last week. (Excuse my towel-wrap thingy. I'm a sweaty girl and I have to keep cool when getting all dolled up!) (Oh, longness. How I shall miss thy versatility.)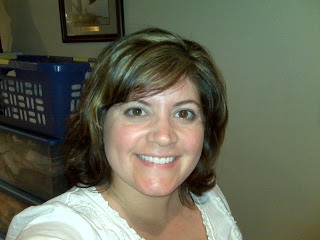 Here's my hair THIS week! (People have told me my WHOLE life that I look just like my mom. This is the first time that I have ever seen myself and thought, "Holy cow it's Debbie."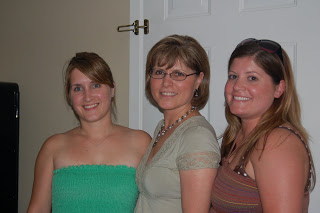 My mom is in the middle. Do we look alike? (That's my sis on the end, mom in the middle and me on the other side last summer.)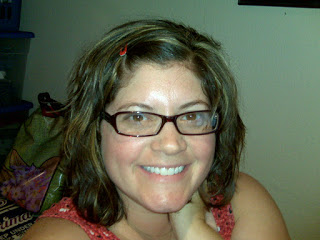 And here's what I did with it today. Because I'm lazy. And I'm bound and determined to find the quickest hairstyle possible. So of course, glasses and a barrette.
What do ya'll think? I'm still cute right?