Hubby and I got married in November of 2007. I'm SURE I've said this before but the most important part of the day (besides the obvious, GETTING MARRIED) was the photography. It was the first thing I started working on, started looking for. I talked to probably 5 to 8 photographers before I made a decision. I ended up hiring the first photographer I spoke to,
The Memory Journalists
(whom I now actually shoot for! Yay me!). I knew I wanted them all along but it was a little more than I wanted to spend and I felt obligated to at least look at other photographers. Even my mom knew by the time we got down to the fifth or sixth photographer that there just wasn't going to be anyone else for us.
Fast forward to this year and NJ, the office manager extraordinaire, had been submitting our wedding/photography to different wedding magazines trying to get it published. And it got picked up by
Real Weddings
. How cool is that?!
As I was cleaning out the junk room today I ran across the magazine and sat down to read the interview. The thing I remember the most about being engaged (besides the STRESS) was how freaking happy I was. In fact one of my aunt's was teasing me saying I was a cheese ball and couldn't stop smiling. And it was so true. I was so excited to be getting married and more importantly than that to be getting married to my Hubby. As I read the article it came back to me. That excitement. That intense peace that I felt knowing I was making the BEST decision of my life.
These aren't the best scans but I wanted to show you the article and pictures in the magazine. Read the full article below the pictures.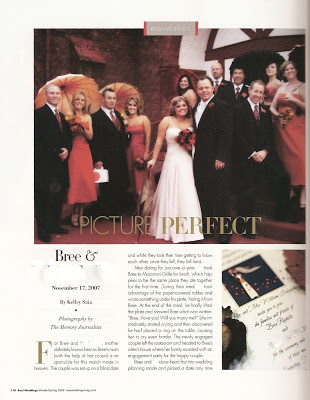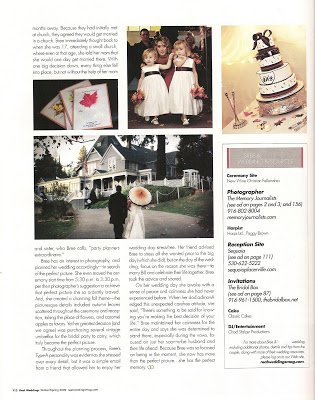 November 17, 2007
By Kelley Saia
Photography by The Memory Journalists
From the Winter/Spring 2009 issue


For Bree and ?, mother definitely knows best as Bree's mom (with the help of her cousin) is responsible for this match made in heaven. The couple was set up on a blind date and while they took their time getting to know each other, once they fell, they fell hard.

After dating for just over a year, ? took Bree to Macaroni Grille for
lunch, which happens to be the same place they ate together for the first time.
During their meal ? took advantage of the paper-covered tables and wrote
something under his plate, hiding it from Bree. At the end of the meal, he
finally lifted the plate and showed Bree what was written: "Bree, I love you!
Will you marry me?" She immediately started crying and then discovered he had
placed a ring on the table, causing her to cry even harder. The newly engaged
couple left the restaurant and headed to Bree's sister's house where her family
awaited with an engagement party for the happy couple.

Bree and ? dove head first into wedding planning mode and picked a date
only nine months away. Because they had initially met at church, they agreed
they would get married in a church. Bree immediately thought back to when she
was 17, attending a small church, where even at that age, she told her mom that
she would one day get married there. With one big decision down, every thing
else fell into place, but not without the help of her mom and sister, who Bree
calls, "party planners extraordinaire."

Bree has an interest in photography, and planned her wedding accordingly—in
search of the perfect picture. She even moved the ceremony start time from 5:30
p.m. to 3:30 p.m. per their photographer's suggestion to achieve that perfect
picture she so ardently craved. And, she created a charming fall theme—the
picturesque details included autumn leaves scattered throughout the ceremony and
reception, taking the place of flowers, and caramel apples as favors. Yet her
greatest decision (and we agree) was purchasing several vintage umbrellas for
the bridal party to carry, which truly became the perfect picture.

Throughout the planning process, Bree's Type-A personality was evident as
she stressed over every detail, but it was a simple email from a friend that
allowed her to enjoy her wedding day stress-free. Her friend advised Bree to
stress all she wanted prior to the big day (which she did), but on the day of
the wedding, focus on the reason she was there—to marry Bill and celebrate their
life together. Bree took the advice and soared.

On her wedding day she awoke with a sense of peace and calmness she had
never experienced before. When her dad acknowledged this unexpected carefree
attitude, she said, "There's something to be said for knowing you're making the
best decision of your life." Bree maintained her calmness for the entire day and
says she was determined to stand there, especially during the vows, focused on
just her soon-to-be husband and their life ahead. Because Bree was so focused on
being in the moment, she now has more than the perfect picture…she has the
perfect memory.