Dear Jack,


Yesterday Daddy, Mommy, Nina, Papi, Auntie Coley, Uncle Ua, Auntie Chicken, cousin Butterbean, cousin Lovebug and cousin B all crowded into a room and a lady with a magic wand rubbed it all over Mommy's belly and took lots of pictures. She took pictures of your head and your arms and your legs and your spine and your heart and your bottom. We all oohed and ahhed as we saw all the little parts of you.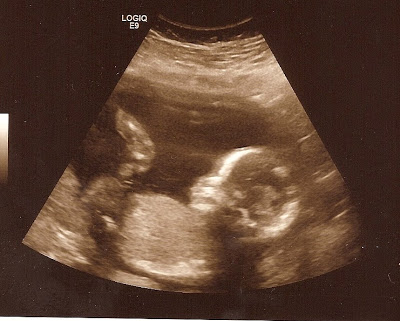 Baby Jack's first picture.
The best moment of the day for me wasn't even when the big reveal came. Daddy and I went in first with the nurse so she could take all the pictures of you. Mommy couldn't see the screen so she just watched Daddy's face as he watched you jump all over the screen. The room was dark and quiet and Daddy was mesmerized by what he saw. Then he whispered to himself, "This is so incredible." And Mommy cried. Daddy is a man of few words and that was a lot for him.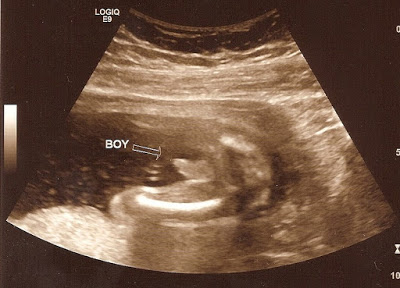 The Money Shot.

The lady with the magic wand actually had some trouble getting pictures of you at first. You were all curled up like a U. And no matter how much we prodded at you, you stubbornly refused to budge. In fact we would prod and you would kick Mommy! You were sleeping just like Mommy does too, with your arms wrapped around your head.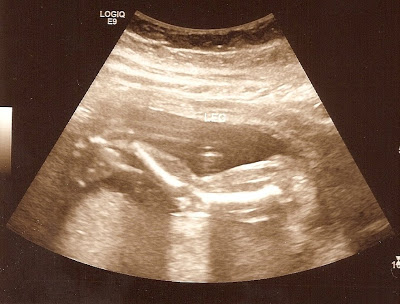 Look at that strong leg!
I have known you were Jack all along. Mommies just know these things sometimes. Secretly I was already calling you Jack. Daddy wasn't so sure. He really wanted you to be a boy since he already has his little girl but I think he was afraid to hope so he was convincing yourself that he was a boy. Auntie Coley and Nina knew you were a boy too and already had gifts for you! Even Aunt Michelle knew you were a boy! So see you were meant to be our all along.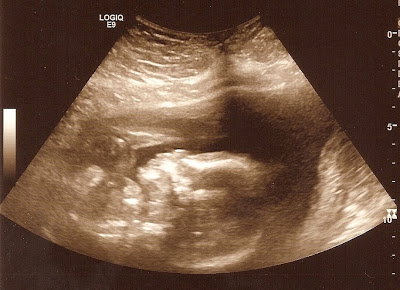 I want you to know my little Jack that never was there a Jack more loved and wanted than you. You are already the love of Mommy and Daddy's lives. And while we are so anxious to meet you and see you and hold you we can be patient, so you stay where you are for a few more months. Grow strong and healthy in your little cocoon. We will be here when you ready. Love you my little man.
Love, Mommy