I'm a little family of two. Well, three if you count the dog but she eats kibble. So that means cooking for two. Which sucks. Most of the recipes out there are for four or more people which means a lot of leftovers. And my hubby is not a big fan of leftovers. Plus, we are eating a whole lot healthier in this house so there are definetely some challenges. So I'm working on coming up with two people recipes that are YUMMY and HEALTHY. Not always the easiest thing to do but I will prevail! As I do I'll share my recipes with you here! First up, chicken pot pie.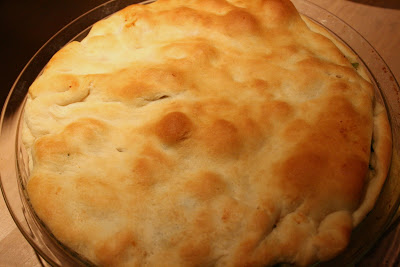 Easy Breezy Chicken Pot Pie
2 chicken breasts
1 can of 99% Fat-free Cream of Celery soup
1 steamable bag of mixed veggies
1 can of Reduced Fat Crescent rolls
Lawry's Seasoning Salt
Pepper
Mrs. Dash Garlic & Herb
1. Preheat oven to 350.
2. Chop up the chicken breast and throw it in a frying pan with a little bit of Pam. Season with Lawry's and pepper. When almost done add some Mrs. Dash. Cook until lightly brown.
3. While the chicken is cooking, steam your bag of veggies.
4. Mix the chicken, soup and veggies together. Put into a baking pan and bake for 20 minutes stirring half way through. You want your mixture to just start bubbling.
5. While your chicken mixture is cooking open up your can of rolls. Pinch the seams together and put four of the rolls on the bottom of a 9-inch baking dish. Add your chicken mixture when it is done cooking and place the other four crescent rolls on top of the mixture. Cook for 15 to 20 minutes or until the top is golden brown. Enjoy!