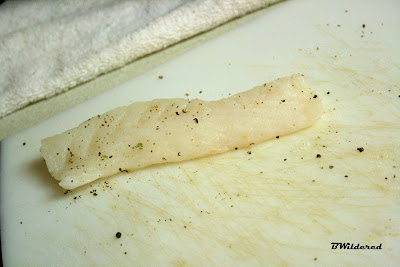 I have been craving fish and chips. Specifically the one's I had in Ireland many, many, MANY years ago. They were SO good. Crispy and a little sour with the vinegar. And ever so fattening. So I decided to get what I wanted with a little less fat.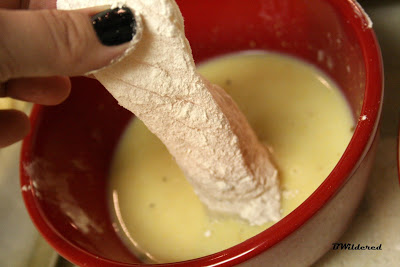 So I did a little search, found a recipe and tried it out. And it was
goooooooood
. And super easy. Make them for your kiddies and serve them with tater tots! My hubby isn't much of a fish eater but even he was a fan of these! I scrounged this recipe up from Weight Watchers, and for those of you who care it is supposed to serve 4 for 5 points each.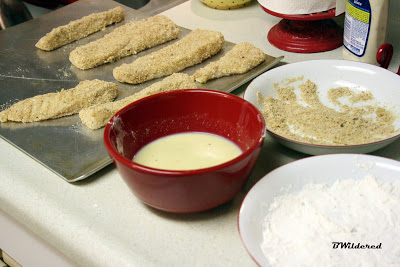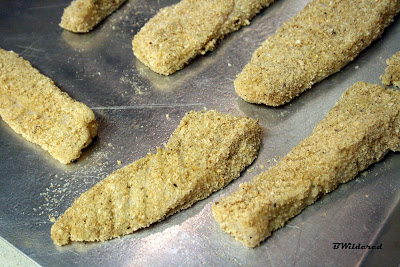 Fish & Chips
Ingredients:
Cooking spray
2 medium potatoes, peeled and cut into 8 wedges each
salt
black pepper
1/2 cup fat-free milk
1 tbsp Dijon mustard
1/2 cup seasoned dried bread crumbs
1/2 cup all-purpose flour
20 oz uncooked cod, four 5 oz fillets
red wine vinegar
Directions:
Preheat oven to 400.

Coat

2 large baking sheets with cooking spray.
Place potato wedges on one baking sheet and lightly coat with cooking spray; season to taste with salt and pepper. Bake until golden brown and tender, about 45 minutes.
Whisk milk and mustard together in a shallow dish. Place bread crumbs in another shallow dish and put flour in a third shallow dish. Season both sides of fish with salt and pepper.
Place fish in the flour and turn to coat. Then place fish into milk mixture and turn to coat. Finally place fish in the bread crumbs and turn to coat.
Place fish on the

second

baking sheet and lightly coat with cooking spray. Bake until fish flakes easily with a fork, about 10 to 15 minutes.
Serve fish and potatoes with the red wine vinegar on the side.