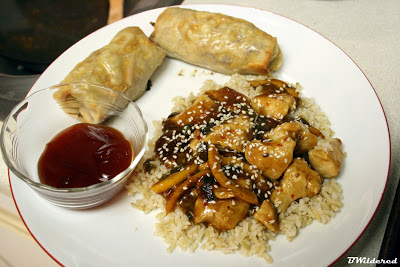 Orange chicken recipe as promised! My one tweak on this is lighten up on the red pepper flakes. It was a bit much.
Orange Chicken Recipe
Ingredients:
1 pounds uncooked boneless, skinless chicken breast cut into 2-inch strip
2 cup cooked white rice, kept hot (I used brown for more

nutritional

value)
Rind of a small orange sliced into thin strips
1 1/2 tbsp cornstarch
3/4 cup canned chicken broth, reduced-sodium
2 tbsp sugar
1 tbsp white wine vinegar
2 tsp peanut oil
1/2 tsp ground ginger
2 medium garlic cloves, minced
2 tbsp low-sodium soy sauce
2 medium scallions, chopped
1/2 tsp red pepper

flakes

or 1 dried chili pepper, minced
1 tbsp sesame seeds
Directions:
In a bowl, whisk together the soy sauce, broth, sugar, cornstarch, ginger, and vinegar, then set aside.
In a large skillet, heat peanut oil on medium-high heat. Add orange rinds, scallions, garlic and red pepper flakes and cook for about 2 minutes. Add in the chicken and cook for approximately 5

minutes

, or until chicken is golden brown.
Now mix in the sauce and let simmer until the chicken is cooked all the way through and the sauce starts to get thick, this should take approximately 3-4

minutes

.
On a plate, serve chicken and sauce over rice and

garnish

with a sprinkle of sesame seeds.
Again for those who care: a serving size is 1 cup of chicken and 1/2 cup of rice and is 6 points.