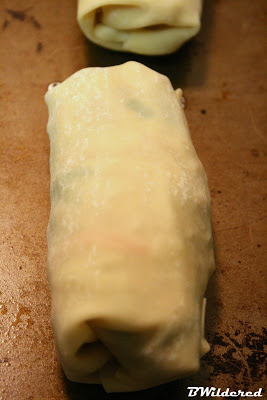 I bought the
Hungry Girl
book awhile back and have been slowly making meals from it. The thing that I really like about this book is that everything is given to you in directions for one serving. Which is great when you just want to make lunch for yourself. And everything has been really good too.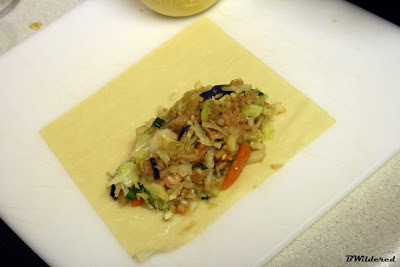 I had a hankering for Chinese food and decided we needed to venture out and make some of our own. On the menu, Orange Chicken (recipe coming tomorrow!) and Hungry Girl's Shrimpylicous Egg Rolls. Good stuff my friends. Both recipes need a few minor tweaks but all in all really good.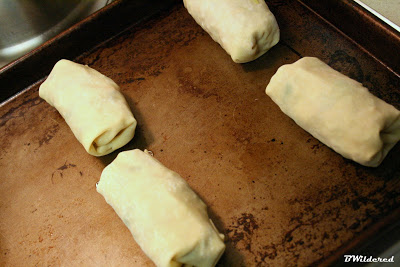 Shrimpylicious Egg Rolls
Ingredients:
6 large square egg roll wrappers (found in the refrigerated section of the supermarket, usually by the tofu)
4 cups dry coleslaw mix
1 6-oz. can tiny shrimp, drained
1/2 cup canned water chestnuts, drained and sliced into strips
1/2 cup bean sprouts, chopped
2 scallions, chopped
1 stalk celery, thinly sliced width wise
2 tsbp. light or low-sodium soy sauce
1 tsp crushed garlic
1/2 tsp. ground ginger
1/8 tsp. salt
dash pepper
Directions:
Preheat oven to 375.
Place slaw mix in a microwave-safe bowl and 2 tbsp. of water, cover and microwave for 2 minutes. Drain any excess water, and transfer slaw mix to a large bowl.
Add all other ingredients except the wrappers, mix well and set aside. (For more intense flavor, allow mixture to marinate in the fridge for 20 minutes)
Prepare a large baking sheet by spraying it lightly with nonstick spray.
Place two egg roll wrappers on a clean, dry surface. Evenly distribute about 1/2 cup of the mixture onto each wrapper, in a row a little below the center. Moisten all four edges of each wrapper by dabbing your fingers in the water and going over the edges smoothly.
Fold the sides of each wrapper about 2/4-inch towards the middle, to keep the mixture from falling out of the sides. Then roll the bottom of each wrapper up around the mixture, and continue rolling until you reach the top. Seal the outside edge with another dab of water.
Carefully transfer egg rolls to the baking sheet. Repeat the process with the remaining wrappers and filling, making sure you have a clean, dry surface each time.
Spray the tops of the egg rolls with nonstick spray. Baking in the oven for 25-30 minutes, until golden brown. Allow to cool slightly and serve with sweet & sour sauce.